Matching clothes to your figure depends on cut, texture and style.
At YOKKO we make detailed studies for each model to suit perfectly on every silhouette.
Make sure you know the best fit for your size when you order, by consulting the chart below.
In case you are unclear on a certain product's size, please
contact us
.
EU SIZE

XS
M
XL
XXL
3XL
32
34
36
38
40
42
44
46
48
50
Bust (A)
79-81
82-84
85-88
89-92
93-96
97-100
101-105
106-110
111-116
117-121
Talie (B)
61-63
64-66
67-71
72-75
76-79
80-83
84-88
89-93
94-99
100-105
Sold (C)
85-88
89-91
92-95
96-99
100-103
104-107
108-112
113-117
118-122
123-128
All above sizes are in centimeters.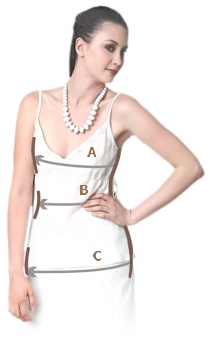 First get your dimensions by using a measuring tape, while remaining in a straight and relaxed position.
Make sure you are not wearing any clothes that might affect the measurement.
Bust (A)
Measure around your body, under your arms and over the fullest area of your bust. Keep the measuring tape comfortably loose.
Waist (B)
Measure your thinnest waist line while keeping the tape comfortably loose.
Hips (C)
Measure by placing the tape about 20 cm (10 inches) bellow your waist, at the widest part, while keeping the tape loose.
For crushed or stretch fabric you may order the products one size smaller than usual.
EU SIZE
XS
M
XL
2XL
3XL
32
34
36
38
40
42
44
46
48
50